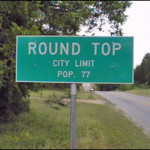 Round Top started out as an English settlement dated back from James Winn's land parcel from Stephen F. Austin in 1831. The original town name was known as Townsend Settlement after the Nathaniel Townsend family. After that, the town was renamed to Jones Post Office Settlement, before it became known as Round Top, after the local postmaster's octagonal tower United States post office. From 1845 to 1847, German settlers bought up the local farms and town lots, leaving the rich German heritage that is still visible in historical buildings, shops, and street names around Round Top. Over the years, Round Top evolved into the quintessential Texas little town blessed with music, arts, and proud Texas history.
Take drive around Round Top, and you will be mesmerized by the lush green fields guarded by great oak trees. In downtown, you will be greeted by the historic Bethlehem Lutheran Church built in 1866 by Carl Siegismund Bauer and pastor J. Adam Neuthard. Great events, art galleries, antique shops, live music, and dining from Round Top Square, Round Top Road, and all along highway 237 are always aplenty bringing in big smiles to every visitors coming to Round Top.
For more local information, please visit Round Top Chamber of Commerce for more details.