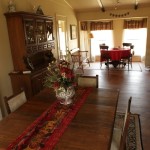 Kalina's Kottage is one of our favorite place to stay in our farm. We tried to decorated it as homey to us with some antiques and arts from Boston and local arts when our daughter was still a baby. This cabin is away from the other cabins and is located close to the pond and bird house.
In spring, cows and new calves would congregate in the lot next to the cottage sunroom in the morning. The driveway leading to the Kalina's Kottage is lined with blue bonnets with colorful sprinkles of Indian paintbrushes.
$225-$300* per night with 2-3 nights minimum for off seasons and high seasons, respectively (Please use Contact Us for single night requests)
Sleeps 4, or up to 5 on the couch
1 king size and 1 queen-size beds, with 2 full bath (one with tub/shower and one shower only)
Baby crib in the house
direct TV and internet
Full kitchen with stove/oven, dishwasher, microwave, coffee maker, and large refrigerator
Separate breakfast and dining area
*additional 6.75% state sales tax; accommodation rates higher during high demand seasons; single night add $75 cleaning fee


Photo Gallery:
Kalina's Kottage Availability:
Click "Next" on the calendar below to see the availability.
Green color indicates available, and Red color not available.
Note that some browsers (i.e. IE9) and some mobile devices may have trouble displaying the availability color.
Price per day is displayed in the calendar. Note that Price may vary with high season demands or single day stays. Please contact us to inquire about longer stay discounts.